Hair Restoration
PRP Plus ACell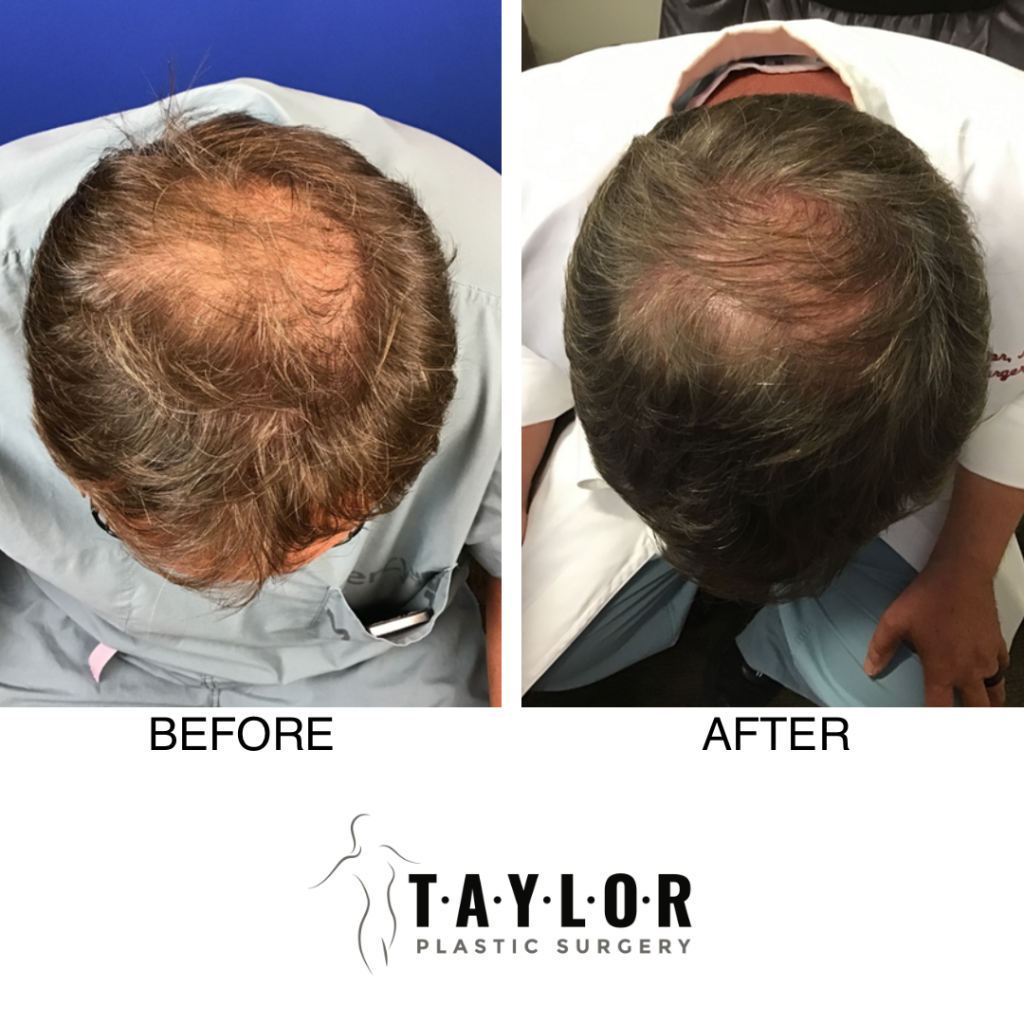 Hair loss can affect not only your appearance, but your self confidence too. With PRP plus ACell hair restoration, both men and women can achieve thicker, fuller hair in one office treatment.
What is PRP Plus ACell? 
PRP (platelet rich plasma) can be used alone, or can be combined with ACell, an Extracellular Matrix tissue-regenerating technology derived from animal tissue, to stimulate new hair growth. PRP requires the use of the patient's own blood cells, containing many beneficial growth factors for natural hair growth. ACell offers additional benefits like promoting the growth of hair follicles in previous scars and remodeling the tissue. At Taylor Plastic Surgery, we utilize the Magellan TruPRP system, allowing for controlled, custom PRP concentration to be delivered depending on each patient's unique needs. PRP plus ACell offers a nonsurgical solution to patients who are thinning or need maintenance after hair restoration.
Who can Benefit from PRP? 
Both men and women might experience hair thinning and balding with age. Others may suffer from alopecia, a condition that results in the hair falling out and difficulty with new hair growth. Many patients choose PRP hair restoration because it is nonsurgical, so there will be minimal discomfort, no scarring, and no recovery time. There are many solutions to hair loss, so Dr. Taylor will meet with patients first to determine if they are a good candidate for treatment or not.
Treatment with PRP Plus ACell 
PRP treatment begins by obtaining the patient's blood, typically from the arm. The blood is then processed using the Magellan TruPRP system. Traditionally, PRP is spun in a centrifuge requiring manual collection into a syringe. However, with the Magellan TruPRP system, the plasma is automatically collected into a syringe for placement. The scalp will be cleansed, and a topical numbing cream will be applied before the treatment process. The PRP plus ACell is then placed below the skin on the scalp where thinning or balding has occurred. The process can take about 90 minutes to perform.
After Treatment with PRP Plus ACell 
There is no required downtime or recovery after treatment with PRP hair restoration. Because PRP stimulates natural hair growth, patients can expect to wait three to six months before regrowth occurs. While traditional PRP hair restoration requires up to four treatment sessions, only one treatment with PRP and ACell is required, with retreatment at about 12-24 months.
To learn more about PRP and ACell for hair restoration, contact our office. We can schedule your consultation with Dr. Taylor to ensure the treatment is right for you.