QWO Cellulite Treatment
in Rogers, Bentonville, Fayetteville, Springdale Arkansas

QWO is a ground-breaking FDA-approved injectable used to treat moderate to severe cellulite in the buttocks of adult women.
Most women will have cellulite in their lifetime–about 9 out of 10 women, in fact. Tough workouts and healthy eating habits are fantastic for your fitness and overall wellness—but won't do much to reduce your cellulite.
There are 3 things that together cause those signature dimples. Let's take a look under the surface of the skin.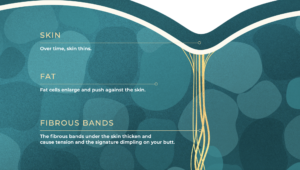 How does QWO work?
It's not fully understood how QWO works in moderate to severe cellulite. The enzymes in QWO—called collagenases—are believed to target a structural cause under the skin.
It's thought that QWO works in 3 ways: releasing fibrous bands, redistributing fat cells, and stimulating the growth of new collagen. It's believed that QWO breaks down the buildup of collagen in the fibrous bands.
What areas can be treated by QWO?
QWO is currently only FDA approved for treating moderate to severe cellulite in the buttocks of adult women.
What can I expect from my consultation & treatment
At your appointment, your nurse injector will discuss treatment and expectations. After identifying the treatment areas, they'll use a small needle to inject QWO. You may receive up to 12 injections per buttock, for a maximum of 24 injections for both buttocks. Some dimples may require more than one injection.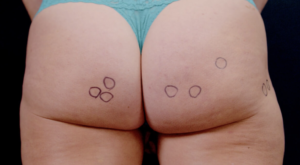 QWO injections take 10 minutes or less. In clinical trials, women required no post-treatment downtime.
QWO is administered in 3 separate sessions each spaced 21 days apart. To help achieve desired results, patients should complete all three treatment sessions.
Before & After Results
Individual results may vary.