Breast Lift
in Rogers, Bentonville, Fayetteville, Springdale Arkansas
Many women experience loss of breast firmness and shape, caused by poor skin elasticity, gravity, weight loss, pregnancy, and breastfeeding. A breast lift procedure, also known as a mastopexy, corrects these lifestyle changes, repositioning and lifting the breast to a more youthful, perky height. This procedure can be performed with a breast augmentation, if the patient desires an improved volume as well.
 Reasons to consider Mastopexy
If you have sagging breasts caused by the effects of aging and gravity.
If you have inadequate fullness after significant weight loss, pregnancy, or breastfeeding.
If you have nipples that point downward or to the side, and desire an improved shape.
How will I be evaluated for a breast lift?
You will have a consultation with one of our skilled plastic surgeons before your procedure so they can examine your breasts and take measurements. There are various breast lift methods, which will be determined based on the size and shape of your breasts, the quality of your skin, and the position of your nipple-areolar complex. You should inform our doctor if you are planning on losing more weight after your breast lift, since it is recommended to be at a stable weight for at least three months before surgery.
During your initial consultation, you should be prepared to discuss your medical history, including medical conditions, allergies, previous surgeries, and current medications. It is vital to provide accurate information to achieve the best possible outcomes. Our surgeon may require a mammogram if you are over the age of 25, and have not received one in the past year.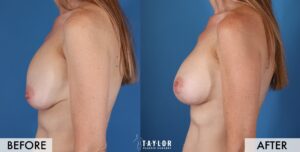 What should I expect with breast lift surgery?
Breast lifts are performed in our fully accredited, state-of-the-art on-site surgery center. Before your procedure, local or general anesthesia will be administered so you are completely comfortable throughout the surgery. For your safety, your heart rate, blood pressure, and the amount of oxygen in your blood will be monitored during the operation.
Our doctor will utilize one of three most common incision techniques, including around the areola, around the areola and vertically down to the breast crease, and around the areola, down to the breast crease and horizontally along the breast crease. The incision pattern is determined based on the factors mentioned above. After your breast is lifted and reshaped, the incisions will be closed.
When your breast lift is complete, you will be taken to a recovery room, and be required to wear a surgical bra to maintain and support your new breast position.
How long will breast lift results last?
Your new breast shape and height will remain constant, as long as you maintain a healthy diet and exercise, or avoid getting pregnant. However, lifestyle changes and the effects of aging will eventually alter the size and shape of the breasts. If you become dissatisfied years after your breast lift procedure, you may choose to undergo a second breast lift or a breast augmentation to restore your youthful breast contour.