Breast Reconstruction
in Rogers, Bentonville, Fayetteville, Springdale Arkansas
Breast reconstruction is done to restore the shape, size, and appearance of one or both breasts after mastectomy or lumpectomy surgery. Your unique anatomy and aesthetic goals along with your need for any radiation or chemotherapy after surgery will determine your available options.
Reasons to Consider Breast Reconstruction
If you believe breast reconstruction will give you a sense of well-being or wholeness.
To help improve confidence in your appearance.
To improve breast symmetry.
To help you feel more comfortable in low-cut necklines or swimwear.
How will I be evaluated for breast reconstruction surgery?
During your breast reconstruction consultation, Dr. Robert Taylor or Dr. Kasia Kania will examine the surgical site for skin quality and the size and shape of the remaining breast, if present. You should also be prepared to discuss your medical history which includes any medical conditions, previous surgeries, allergies, and medications.
Patients who are able to cope well with their diagnoses and have a positive outlook on the outcome of their procedure are often good candidates for this procedure.
What should I expect during breast reconstruction surgery?
Your breast reconstruction surgery will be performed in our fully accredited, state-of-the-art, on-site surgical center. There are three surgical options when it comes to breast reconstruction surgery: the use of breast implants, reconstruction of the breasts using the patient's own skin and fat, or a combination of these methods.
If the patient chooses to receive breast implants, a breast tissue expander will be placed beneath the chest muscle to form an envelope to place the implant into. Then, the expander will be removed and replaced with implants.
If the patient chooses to undergo reconstruction using a flap of their own tissues, tissues, fat, and muscles will be removed from the back, abdomen, or buttocks in order to create a new breast mound.
Dr. Taylor or Dr. Kania will discuss your options based on the precise characteristics of your breasts and your aesthetic goals.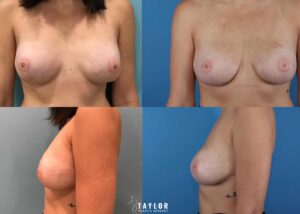 How long will breast reconstruction results last?
Breast reconstruction results are long-lasting. In the case that a breast implant ruptures, additional surgery may be required to revise the area. Patients should also understand that breast reconstruction will not combat the effects of aging, and gravity may affect the size and shape of the breasts over time.
If you have any further questions about breast reconstruction at Taylor Plastic Surgery, please don't hesitate to give us a call today!
Patient Testimonials