Facelift
in Rogers, Bentonville, Fayetteville, Springdale Arkansas
Dr. Robert Taylor and Dr. Kasia Kania offer facelift techniques for individuals who want to improve facial wrinkles and sagging skin on the neck and face. Facelift results can either be dramatic or subtle, depending on each patient's realistic and desired goals of the procedure. A facelift, also known as a rhytidectomy, may be combined with other facial procedures, including eyelid surgery (blepharoplasty), for a more significant improvement.
Reasons to Consider Facelift Surgery
If you have sagging skin, muscles, and fat in the face, jawline, and neck areas.
If you are unhappy with folds, lines, and wrinkles around the mouth, nose, chin, or eyes.
How will I be evaluated for a facelift?
During your initial consultation, one of our plastic surgeons will examine the texture, thickness, and elasticity of your facial skin. They will also analyze the severity of wrinkles and folds. All of these factors, including your underlying tissues and bone structure, will help determine an individualized surgical plan.
If you have additional cosmetic concerns, our doctor may discuss other facial procedures for a significant improvement. For example, a facelift is commonly combined with eyelid surgery, brow lift, rhinoplasty (nose reshaping), or skin treatments, for a more youthful and refreshed look.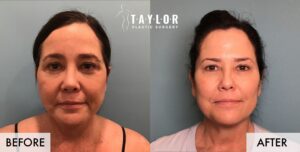 What can I expect with facelift surgery?
Facelift surgeries are performed in our fully accredited, state-of-the-art on-site surgery center in Fayetteville, AR. Before your surgery, medication is administered, so you are completely comfortable throughout the procedure, whether you prefer local or general anesthesia. For your safety, we closely monitor your heart rate, blood pressure, and the amount of oxygen in your blood to ensure stability during surgery.
After your facelift is complete, you will be taken to a recovery area. Bandages will be wrapped around your face, at the incision sites. In some cases, small tubes are used to drain fluid buildup beneath the skin. Most patients feel minimal discomfort from their facelift.
Typically, you can return home a few hours after surgery. However, if you underwent a combination of procedure, you may be required to stay overnight in the hospital or surgical facility.
How long will facelift results last?
Patient results from a facelift are immediate, and will improve over time as swelling subsides. Although the aging process is unavoidable, facelift results are enjoyed by patients for several years.