Robert Taylor, M.D., F.A.C.S.
Board-Certified Plastic Surgeon
Dr. Taylor founded Robert Taylor Plastic Surgery on the principles of high-quality, ethical patient care and excellent surgical results. You can be confident that you're in good hands at Robert Taylor Plastic Surgery. Scroll down to learn more about Dr. Taylor.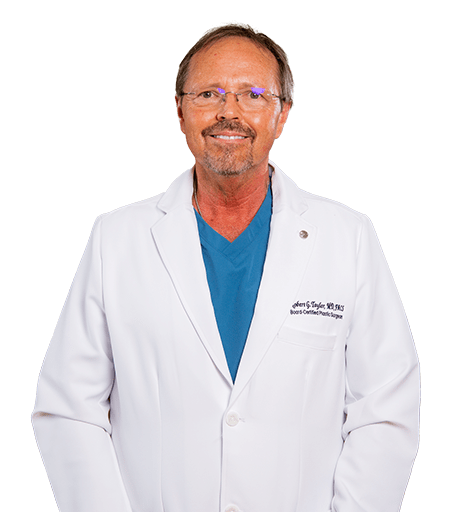 Dr Taylor
Dr. Taylor is certified by the American Board of Plastic Surgery to perform all cosmetic and reconstructive plastic surgical procedures. He received his Medical Degree from the University of Arkansas for Medical Science in 1986 and completed his postdoctoral general surgery training and residency at the Bowman Gray School of Medicine in Winston-Salem. As a board-certified plastic surgeon, you can be confident that, by choosing Dr Robert Taylor, you are in the hands of a trained and experienced surgeon.
Taylor Plastic Surgery & the Taylor Skin Center
Dr. Taylor founded both practices - Taylor Plastic Surgery & the Taylor Skin Center - on the principles of high-quality, ethical patient care with the goal of excellent surgical results. Dr. Taylor has been in practice for over 25 years and is regarded as one of the Top Northwest Arkansas board-certified plastic surgeons in the area. He is known for his natural, beautiful results that enhance his patients' self-confidence as well as improve the quality of life.
Kasia Kania, MD, MPH
Plastic and Reconstructive Surgeon
Dr. Kasia Kania is an experienced plastic and reconstructive surgeon who offers an extensive array of custom-tailored procedures. Educated and trained at some of the most respected medical institutions in the world, Dr. Kania is highly proficient in advanced treatments designed to enhance the appearance of the face, breasts, and body. She is also skilled with state-of-the-art reconstructive techniques that can help women restore a natural-looking breast appearance after mastectomy, as well as reconstructive procedures for other areas of the body.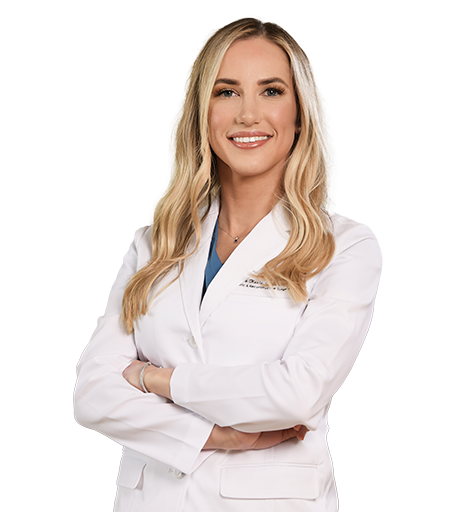 Our Providers
At Taylor Plastic Surgery, it's not just surgical procedures that we are known for. We also offer non-surgical procedures, such as injectables/threads/PDO threads, as well as facials/peels/waxing and all skin care services. Our trained and licensed team of nurse injectors and aestheticians offer years of experience and are here to help you address any and all of your aesthetic needs – in one place.
SUSIE REED, RN CANS

AESTHETIC NURSE INJECTOR

"Nothing makes a woman more beautiful than the belief she is beautiful" – Sophia Loren

Susie is a Registered Nurse with over 25 years of experience in the aesthetic industry. Susie is a Certified Aesthetic Nurse Specialist (CANS) who is uniquely qualified and credentialed to give the aesthetic treatment you need with her specialized knowledge and skill set.

"My patients understand that Anti-aging is a journey, a marathon, not a sprint. I believe in full-face correction; however, I never want my patients to look like they've had work done. It's our little secret."

Her extensive education and experience has enabled her to become well known for aesthetic injections with treatments such as Botox® and dermal fillers. She also has a passion for teaching others In her field to provide a safe and natural appearance to their clients. She is a national trainer for Allergan® and Galderma® as well as the owner of Aesthetic Secrets, LLC, which specializes in consulting and advanced injection training for health care professionals.

"I love the opportunity I have to teach other health care professionals the skills and art of injections. Seeing their growth and success is very rewarding and makes me smile. I know they are loving their new career, just as I do."

Many patients have sought Susie out for her expertise, professionalism, and ability to enhance natural beauty. You can be assured you are receiving the utmost care, discretion and consideration with Susie. She takes pride in maintaining relationships with her patients for the long term and truly wants the best for each and every one of them.

"I love my career as an injector and as a teacher/trainer. As I get older, I realize not everyone can say that about their job. I get to help people look and feel better about themselves. I do not want to "change" a person's looks drastically, but I want to help them be the best version of themselves. Confidence is beautiful. Over the years I have gained a lot of relationships through my work that I would not have had the opportunity otherwise. What a blessing!"

Education

BS, Science & Nursing 1993
Harding University
Searcy, Arkansas

Certifications & Experience

Certified Aesthetic Nurse Specialist
Allergan Medical Institute Faculty Trainer since 2010
GAIN (Galderma Trainer) since 2012
Aesthetic Secrets, LLC Owner & Training Consultation since 2011
NWACC Nursing Clinical Instructor 1994-2003

ALEX COOK, RN

AESTHETIC NURSE INJECTOR

Alex is a Registered Nurse with over 14 years of experience. She began her career as an ICU nurse with Freeman Health Systems in Neosho, Missouri and later worked as a PCCU nurse with Northwest Medical Hospital in Bentonville. In 2017, she began her work as an aesthetic nurse injector and joined Taylor Plastic Surgery in 2020.

Alex has always had an affinity for things that made people feel good about themselves. Her mom was a cosmetologist and she loved getting her friends in the chair and fixing their hair and making them feel pretty.  So when the opportunity was presented to work in this amazing field, she jumped at it without a 2nd thought.

"It has been the most awarding move, professionally, that I have ever made. I love when I am finished working with someone and they look in the mirror for the first time and they smile and touch their face. There is something very intimate and special in that 1st 'peek'. It's an unguarded, honest and fleeting moment. I never get tired of it! It's my art."

Education

BA, Psychology
Missouri Southern University
Joplin, Missouri

ADN, Nursing
Crowder College
Neosho, Missouri

PAYTON DOUGHERTY

LICENSED AESTHETICIAN

Payton emerges as an esteemed licensed Medical Aesthetician, boasting an illustrious career spanning over five years in the realm of aesthetics. With an unwavering commitment to her patients, Payton's foremost objective is to meticulously craft personalized treatment plans, curating bespoke skincare regimens that amplify the fruition of desired results. Her proficiency shines as a distinguished ZO Skin Health specialist, endowing her with a remarkable acumen to address an expansive spectrum of skin types and concerns.
"I started my journey in Aesthetics at an early juncture in life. My passion for skin is deeply ingrained, and my repository of knowledge is a testament to that devotion. Facilitating individuals in embracing their innate beauty and radiating confidence within their skin is an unparalleled reward,"
Guided by the principle that her role isn't about transforming the ordinary into the exquisite, but rather nurturing and preserving the inherent beauty that resides within, Payton's approach is a harmonious blend of artistry and science, exemplifying her veneration for the art of aesthetics.

BAILEY

Board Certified Nurse Injector, RN

Meet Bailey, a dedicated Registered Nurse with a passion for both Aesthetic Nursing and Intensive Care Nursing. Through her career journey, she has consistently demonstrated her commitment to providing exceptional care to her patients, encompassing not only their physical well-being but also their emotional welfare.

Bailey's unwavering dedication lies in helping her clients achieve their aesthetic goals while emphasizing the significance of their inner beauty, which radiates far beyond the surface. To ensure her patients' safety and satisfaction, she has undergone comprehensive hands-on training in administering safe and effective treatments. Moreover, Bailey remains up-to-date with the ever-evolving field of aesthetics through continuous education.

Education has always been a cornerstone of Bailey's life. Graduating Cum Laude from Harding University in May 2021, she was honored by her peers and faculty, entrusted to deliver the Class Charge Speech at her Nursing Class Pinning Ceremony. Additionally, Bailey recently attained the esteemed CCRN certification from the American Association of Critical Care Nurses, a testament to her expertise in caring for acutely and critically ill patients.

Fortunate to have learned from her mother, Susie, a national trainer for Allergan and Galderma, Bailey is grateful for the opportunity to be mentored by seasoned professionals. Currently working alongside Dr. Taylor, a Board Certified Craniofacial Surgeon, she is inspired daily by her supportive and knowledgeable colleagues.

At the young age of 24, Bailey feels genuinely privileged to be part of the aesthetic industry. Being able to grow and age alongside her clientele is an experience she cherishes, recognizing the beauty and sanctity of this shared journey through life.

With a heart brimming with compassion and a spirit eager to serve, Bailey looks forward to making a meaningful impact on the lives of her patients, fostering positivity, and contributing to a world filled with love and care.
You can be confident that you're in good hands at Taylor Plastic Surgery + Taylor Skin Cancer Center
Dr. Robert Taylor did a fantastic job with my plastic surgeries (breast augmentation and abdominoplasty). He took the extra time to talk with me about goals, results, and outcomes. His knowledge in the field is extensive and I felt super comfortable knowing I would get the best care. P.S. If you do exactly what he recommends for after care – you WILL see results that you want (and even more!!) Fantastic experience – Dr. Taylor was great!