Breast Augmentation
in Rogers, Bentonville, Fayetteville, Springdale Arkansas
Breast augmentation is a very popular procedure that utilizes breast implants to add volume and improve the shape and firmness of the breasts. There are many reasons a woman considers breast augmentation, whether it is to regain fullness they once had or enhance their existing breast volume. Because of its popularity, breast augmentation methods can be personalized to meet your realistic expectations, includinga the size, shape, and type of implant and placement locations.
Reasons to Consider Breast Augmentation
If you are unhappy with inadequate breast size, which may be disproportionate to the rest of your body.
If you have asymmetrical breasts.
If you are dissatisfied with the appearance of your breast after pregnancy, breast feeding, or significant weight loss.
If you underwent a mastectomy, breast augmentation methods might be utilized. Please visit our Breast Reconstruction page to learn more.
How will I be evaluated for breast augmentation surgery?
During your consultation, one of our experienced plastic surgeons will examine factors of your breasts, including the size and shape of your breasts, the quality of your skin, and the location of your nipples and areolas, or the pigmented skin around the nipples. If you have significantly sagging breasts, but adequate fullness, a breast lift may be recommended.
For your initial consultation, you should prepare to discuss your medical history, including medical conditions, allergies, previous surgeries, and current medications. You will also be asked whether breast cancer runs in your family. Our doctor will recommend a mammogram if you are over the age of 25 and have not received on within the past year. There is no scientific evidence that breast augmentation increases your risk of breast cancer.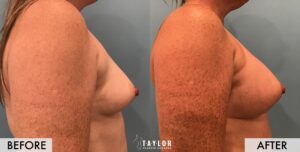 What should I expect during breast augmentation surgery?
Breast augmentations are performed in our state-of-the-art, fully accredited on-site surgery center. There are several incision techniques to place the implant inside the breast, including the common inframammary incision, periareolar incision, and transaxillary incision. Based on your desired results, our plastic surgeon will recommend an incision pattern that works with your goals. Additionally, breast implants may be placed under or above the pectoral muscle, which will depend on the type of implant, degree of enlargement, and your natural anatomy.
When our doctor completes your surgery, you will be placed in a surgical bra that helps support the new structure of your chest. You will also be taken to a recovery area, where you are monitored for a few hours by our highly trained staff.
How will my breasts feel after breast augmentation surgery?
After a day or two, you should be up and about. Sutures will be removed in about one week, and you may shower the day after surgery. You may experience some discoloration and bruising, but this will disappear within a few days. Most residual swelling will subside within a month.
When can I resume my normal activities after my breast augmentation?
Depending on the activity level of your job, you can return to work within just a few days of surgery. However, vigorous activities, including exercising, may be restricted for about two to three weeks.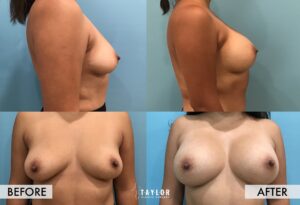 Can I breastfeed after breast augmentation?
Breast augmentation should not affect your ability to breastfeed.
How long will breast augmentation results last?
Breast augmentation results are long-lasting, except when an implant rupture occurs, which may require additional surgery for replacement or revision. Also, keep in mind that effects of gravity and aging are unavoidable and will eventually change the size and shape of breasts. If you ever become dissatisfied with your breast augmentation results, an implant revision surgery may be recommended to ensure you are happy with your appearance.