Male Breast Reduction Surgery (Gynecomastia)
in Rogers, Bentonville, Fayetteville, Springdale Arkansas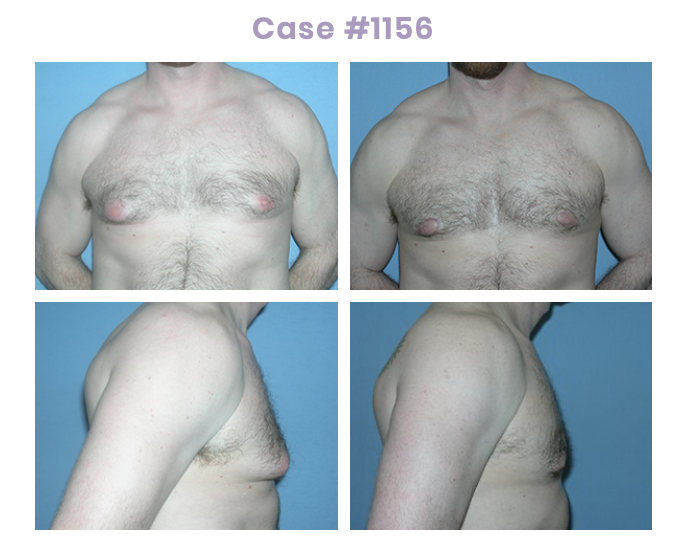 For men who are experiencing enlarged breast tissue, we offer male breast reduction surgery. Enlarged breast tissue in men is a medical condition known as Gynecomastia. It is not dangerous but can inhibit the self-esteem of men and cause them to exclude themselves from social settings. It can also cause some physical discomfort. Our plastic surgeon performs male breast reduction to restore the masculine chest contours in men experiencing gynecomastia.
Reasons to Consider Male Breast Reduction Surgery
You have enlarged breast tissue
You feel self-conscious because of your breast contours
You wish for a more masculine profile
You want to feel comfortable
How Will I Be Evaluated for Male Breast Reduction Surgery?
During your scheduled consultation with one of our plastic surgeons, your breasts will be examined. Our doctor will check the skin elasticity and evaluate how much excess skin and fat need to be removed. They will also examine the nipples to see if they need to be reduced or repositioned during your male breast reduction surgery. During your consultation you should be prepared to discuss your medical history including all medications, allergies, and previous surgeries. You must present complete and honest information to make sure that you get the best possible outcome from your surgery.
Our doctor will go over the male breast reduction procedure and recovery with you in detail during the consultation appointment. They will answer any questions you have and address any concerns.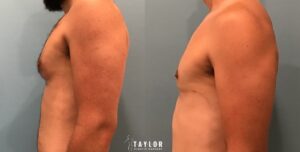 What Can I Expect from My Male Breast Reduction Surgery?
Your male breast reduction surgery will be performed in our fully accredited, state-of-the-art surgical center. Depending on the type of technique used for male breast reduction you could either have local anesthesia with intravenous sedation or general anesthesia. Our surgeon will either remove tissue under the breast or use liposuction of the chest wall. For both techniques, there will be a small incision made on the lower half of the nipple area.
Depending on the amount of excess tissue that needs to be removed, the procedure will vary. Once the surgery is complete, the incisions will be closed, and you will be taken to a recovery room. You will be wrapped in gauze dressings and a compression garment to minimize swelling and support the chest. Our physician may also recommend that a surgical drain be put in place to avoid fluid accumulation.
Male Breast Reduction Results
The recovery time for male breast reduction takes about 4 to 6 weeks. Our plastic surgeon will recommend that you rest for a few days, after a week or so most patients can return to sedentary work. It is important to avoid strenuous activity during the recovery period. During the healing time, you may feel some tightness, tenderness, and some discomfort in the operated area. This will subside with time. If you experience severe pain, call our doctor immediately.
Your male breast reduction results will be long-lasting as long as you avoid gaining significant weight. To avoid this from happening again it is important to speak with our plastic surgeon and your primary care doctor about the underlying cause.