Eyelid Surgery
in Rogers, Bentonville, Fayetteville, Springdale, Arkansas
Cosmetic eyelid surgery, also known as a blepharoplasty, focuses on eliminating excess fat and drooping skin of the upper eyelids for a more refreshed and alert appearance. Blepharoplasty also concentrates on the lower lid, tightens the eyelid skin and corrects any bags under the eyes.
The goal of eyelid surgery is to correct problems that result from aging or inherited traits that affect patients of all ages, even as early as their 20s. For many patients, blepharoplasty can be performed with the help of a local anesthetic.
Reason to Consider Eyelid Surgery
If you have dark, puffy circles or bags under the eyes.
If you have excessive skin or wrinkles around the eyelids.
How does Dr. Taylor evaluate me for blepharoplasty?
During your initial consultation, Dr. Taylor will ask about your medical history, including previous surgeries, medical conditions, and current medications. It is imperative you provide complete information for a positive outcome. If you have high blood pressure, thyroid problems, or diabetes, eyelid surgery may not be right for you since these conditions increase the risk of complications.
After your physical examination by Dr. Taylor, he will recommend one of the several surgical techniques to improve the appearance of your eyelids. The method that is chosen will depend on many factors, including the amount of excess skin and fat in the eyelid areas, the position of your brows, and the condition of the muscles around the eyelids.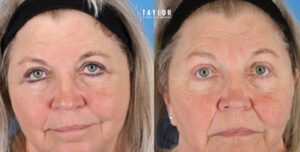 What can I expect with eyelid surgery?
On the day of your surgery, it will be performed in our fully accredited, state-of-the-art on-site surgery center in Fayetteville, Arkansas. Before your surgery, a local anesthetic will be used to keep you comfortable during the procedure, although general anesthesia is optional if desired. For your safety, we will monitor your heart rate, pulse, blood pressure, and the amount of oxygen in your blood.
The excess skin and fat are eliminated from your eyelid area, and concealed incisions in the crease of your eyelids are closed. After Dr. Taylor completes your blepharoplasty, you will be taken to a recovery room. Your vision will be blurry from the ointment used to soothe and protect the eyes during surgery, as well as from swelling, which is normal after blepharoplasty.
With this procedure, patients experience little discomfort. However, pain medications may be prescribed to ensure a comfortable recovery. In most cases, you will be permitted to return home a few hours after surgery.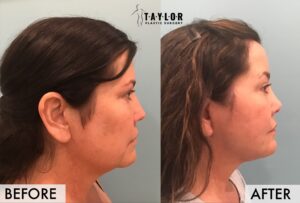 How long will the results last?
The results of blepharoplasty are long-lasting, depending on your lifestyle and genetic factors. Removal of excess fat from your eyelids is permanent, and this concern generally doesn't recur. As skin continues to age, skin laxity and fine wrinkling may return over time. Additionally, loss of tone in the forehead may cause sagging of the eyebrows, which may mimic drooping upper eyelids. If this occurs, a brow lift or a secondary eyelid surgery may be necessary. Despite these factors, patients are happy with their new appearance for many years.